Introducing Our -
"Internationally Recognized Dancer, Instructor, and Choreographer"
- Mr. Benjamin De La Vega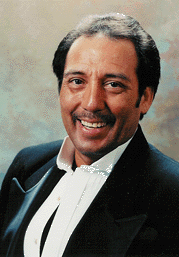 Ben De La Vega was born in Barcelona, Spain and raised in San Antonio, Texas.
Dancing since the age of 5 years old, he has been teaching ballroom dancing for the past thirty years, spending the last twenty-one years in Dallas, Texas.
Mr. De La Vega is not solely interested in the art of Ballroom Dancing, but also in the remedial, physical, mental and social aspects of dancing. He believes that dance provides something for everyone – a belief that energizes his dancing, his ability to entertain and his teaching. In addition to being a master dancer, he loves reading, writing, entertaining, as well as fashion and home decoration.
Mr. De La Vega has been an instructor with both Arthur Murray and Fred Astaire as well as teaching at his own dance studios. He was the Director of Dance for the Richardson Senior Center for eighteen years where his duties included the organization and management of all dance classes offered through the Center. He taught at the prestigious Towers Club in Downtown Dallas. He has also coordinated and sponsored the prestigious "Black and White Ball", which has now become a dance tradition in the Dallas - Fort Worth metroplex. This year's Ball will be the sixteenth consecutive Ball.
Mr. De La Vega danced professionally from 1972-1978 at the MGM Grand Hotel in Las Vegas, with such noted entertainers as: Ann Margaret, Joyce DeWitt, Charo, Elvis Presley and Tom Jones. In fact 'Tom Jones' said this of Mr. DeLa Vega:-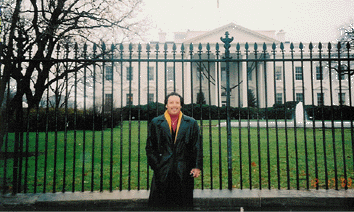 Mr. De La Vega was the honored guest of President George W. Bush and First Lady Laura Bush at the White House Christmas Party, December 2003, together with his friend and longtime student Mary Mark Welch.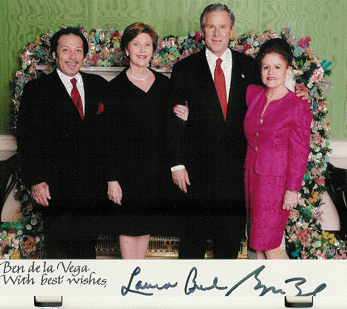 Mr. De La Vega is keenly interested in human physiology and has spent many hours studying the subject, developing a profound knowledge of both the human mind and body.
His teaching skills are exemplary. His unique ability to convey dance knowledge in a practical, easy manner has been essential to his success in teaching dance. Ben is well known for his kind and gentle spirit, keen sense of humor, expertise in Ballroom Dance – and an unsurpassed knack for building his students' self esteem.
Mr. De La Vega is well versed in both American Style and International Style dance techniques. To keep his skills at the cutting edge, he associates with world class professional dancers and has studied professional teaching methodology from such professionals as Michael Mead & Toni Redpath, Alain Doucet & Anik Jolicoeur, Victor Veyrasset & Heather Smith, Donald Johnson & Kasia Kozak, Jean-Marc Genereux & France Mousseau, Felipe & Carolina Telona, George Garcia & Christy Cote, Jami Josephson, and Michelle Kinkaid.
Below is Mr. DeLa Vega's Family Crest:
Professional Accomplishments:
1977 - Second place in Rising Star
1977 - Latin Dance Champion
1977 – Second place in Theater Arts
Movie parts:
Born On the 4th Of July, with Tom Cruise
RoboCop, with Peter Weller
Problem Child, with John Ritter
Roles in Television Advertisements:
Dr. Pepper
Remco, Miller Lite
Jones Blair Paint
Lone Star Beer
Off Broadway parts:
West Side Story with Amencio Coronado
Off-season with Dallas Cowboy Cheerleaders
Featured extra on the television series 'Dallas'
Leading roles in the Texas Hispanic Theater
Judge for the Ms. Texas Senior Pageant
Judge for the Miss Texas Beauty Pageant
For Information regarding our dance programs and the Exclusive De La Vega Method, see Dance Syllabi, Private Lessons, Classes, and our Calendar.